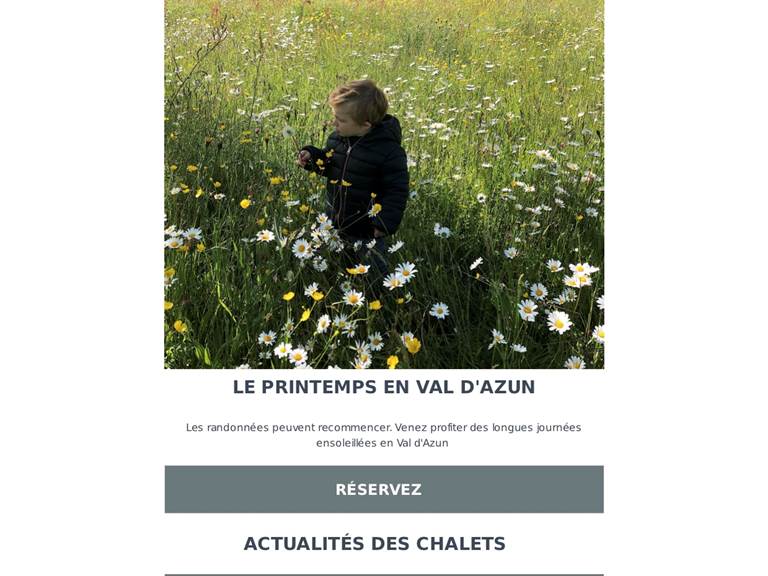 11 Jun 19
NEWLET FROM MAY 2019
SPRING IN VAL D'AZUN
http://sh1.sendinblue.com/nc4heq4zsc.html?t=1560241242

The hikes can start again. Come enjoy the long sunny days in Val d'Azun
CHALETS NEWS

THEY'RE TALKING ABOUT US IN THE NEWS
Marcel Travel Posters highlights Val d'Azun
Julien is a young artist from the Lot. Based in Capbreton, on the Landes coast, he came to spend a few days in Bigorre, at the invitation of Jean-François and Cécile, to create a new work that will highlight this beautiful region of Val d'Azun.


Chalets d'Arrens: young people take over the torch
A great family success that continues from generation to generation


GUIDE OF STAY
In order to facilitate your holidays, we have created a guide of stay including activities, excursions ... SUMMER / WINTER in the Val d'Azun.
As well as practical advice on cottages.

NEW DECORATION OF THE CHALETS
The new decoration of the independent chalet 6 people for this SUMMER

A little renewal in the chalets 6 people.
Finish the room with mezzanine, but now we have 3 rooms.
New decoration, new headboards, new beds 80 x190, parquet ...........

SUMMER 2019
The last availabilities for this SUMMER:
- From July 20th to 27th = 1 chalet for 4 people + 1 PMR suite - From July 27th to August 3rd = 1 chalet for 4 people.
- August 17 to 24 = 1 Suite 2 people.


ACTIVITIES
Producers Market
From June 18, from 16h to 20h the farmers' market will resume, on the place of Val d'Azun d'Arrens-Marsous. From the 17th of July
markets will be animated from 18h. (Concert + Breakfast)

Destination Outdoor
The Val d'Azun is a wilderness destination where fans of sensations and fresh air come to indulge in their favorite sports and leisure activities in its grandiose landscapes.Here we try to take the height, to ride on mountain bikes on the ridges, to climb a summit, to challenge the passes in cyclo, to run in the summer pastures, to fly in its azure sky ... Number of tracks and trails offer an incredible playground where all desires meet. Between the passes of Soulor and Couraduque, cross-country ski trails in winter, you can go hiking and picking, but also mountain biking, electric scooters, trail or even paragliding. But it is in the Pyrenees National Park that hikers or even fishermen find a multitude of discoveries as beautiful and surprising as each other.
Read more

Gastronomy Terroir
Come to discover the gastronomy of Pyrénrées in particular the cheeses of Val d'azun.
Perfect for the first raclettes ...
MOUNTAINS FAMILY LIFE Martin, Cecile and Jeff
A small family, for 19 months now, and yes, our little end arrived on September 28, 2017, in Toulouse.
That's why we decided to take the plunge and make our little nest

GIFT CARD
Offer a relaxing weekend for 2 to 250 euros in a suite.
BOOK